Compact tractors, commonly known as a compact utility tractor, are made for small farms. They are designed for homeowners or hobby farmers with small acreage, i.e, a compact tractor is an agricultural tractor equipped with a 540- rpm PTO and a three-point hitch designed for Category 1 implements only. Compact tractors usually weigh less than 1900 kg and have less than 40 PTO HP. They are designed to be used with mowers and light duty material handling equipment.
Compact tractors come with standard 540 RPM PTO at the rear. It might also have another PTO at the front or in the center. They also have a power lift for implements. Compact tractors are designed to be attached to a wide range of implements, including small farm implements, front-end loaders, and small backhoes. These tractors are often budget-friendly too. If strength, reliability, and durability are the features in your mind, compact tractors are the best choice to go for in a specified price range. However, a major point to consider before buying any tractor or settling for any certain specifications or features is to have a clear understanding about where you are going to use this tractor or for what purpose you are buying one.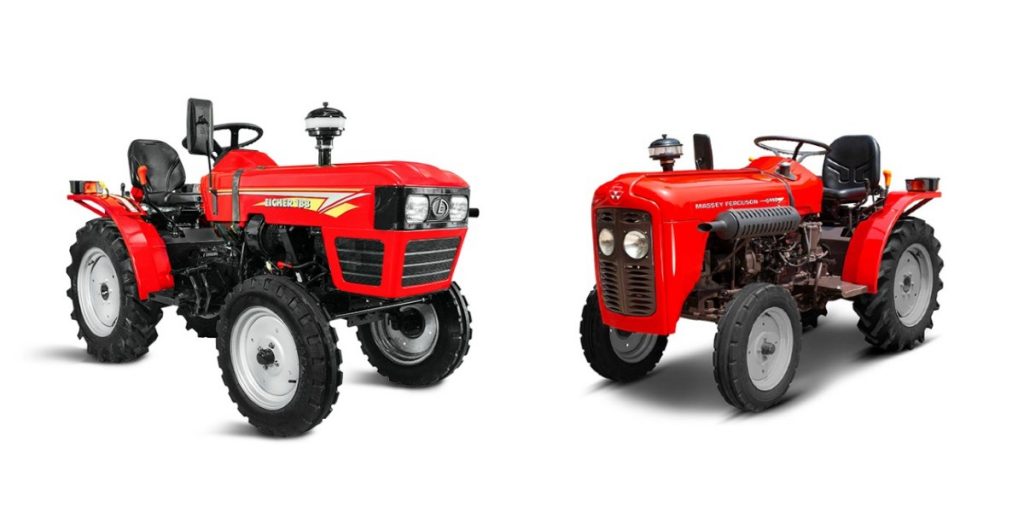 Here are 10 uses of compact tractors or 10 areas where compact tractors are used by the farmers in 2021.
1.Haulage
Compact tractors available in a horsepower range of 15hp to 40hp are ideal for hauling. Farmers can do small-scale hauling tasks without the help of trucks or other vehicles. Transportation of goods to and from the work site / farm is made much easier with these combat tractors.
2. Realty & Construction
It is 2021 and tractors are used for more than just farming like in construction or dirt road maintenance or snow removal. It can also use them with a rear-mounted blade, a compact tractor to grade, level, or spread gravel on a driveway, move snow, or spread mulch. Compact Utility Tractors are Smaller in size and they can be used with a wide array of attachments that lets you perform any task without the need for another machine.
3. Mining
With the right kind of implements, mining is another task that is made possible with compact tractors. Mining operations like excavations, haulage of gravel, rubble can be done with ease with the help of a compact tractor.
4. Infrastructure
TAFE's utility compact tractors that offer better efficiency and revenue-earning prospects under the brand name Massey Ferguson. It is India's first premium compact utility tractor that comes in 28HP category and this four-wheel drive tractor is also suitable for multiple applications ranging from haulage to infrastructure.
5. Health and Sanitation
Compact tractors can be used with a variety of attachments. It is widely used for spraying pesticides, herbicides, etc. Similarly, during the pandemic, Massey Ferguson's MF6028 by TAFE was used by municipalities and corporations with a sprayer attachment for sanitization of roads, etc. TAFE also delivered MasseyFergsuon 5118 tractors with high capacity sprayers to the Malegaon Municipal Corporation in Maharashtra. This fleet of highly versatile MF 5118 compact utility #tractors were used for spraying disinfectants to keep COVID_19 under check in public places and residential areas across the city.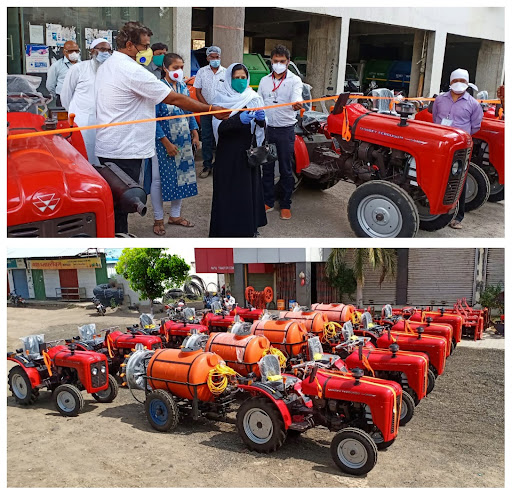 6. Orchard and Vineyards
Orchard is usually a plantation of trees or shrubs, ideally maintained for food production. Vineyards are plantations of grapevines. Compact tractor is an ideal vineyard and orchard tractor. Compact tractors are designed to fit in small and narrow farm spaces. MF6028 and EICHER 188 ,MF5118 by TAFE are two of the best options in compact mini tractors that can be used for orchard and vineyard operations.
7. Livestock
Livestock is an important part of a farm. It is as important as dealing with acreage. A compact tractor will make common tasks like moving feed, hay, and cleaning out stalls or pens easier for farmers. Since they are compact in size, they will fit through gates and tight areas with ease.
8. Landscaping
Compact tractors are ideal for both commercial and residential landscape gardening as well as sprawling campuses, apartment complexes and hospitals. Compact tractors are small in size and they can fit into most spaces and thus can be used quite easily. With the right kind of implements, it can even be used for heavy lifting. The attachments like hydraulic tiller, box scraper, blades, cultivator, etc. make compact tractors perfect for a wide range of landscaping applications
9. Lawn Care
Overgrown lawns are a common problem faced by all types of farmers. With a mower attachment, a compact tractor makes mowing easier and faster. Besides mowing, compact tractors are also helpful in fertilising lawns and killing weeds if used with spraying attachments. You can always go with a rotary cutter attachment for rougher mowing applications.
10. Agriculture
A compact tractor is an ideal and ultimate tractor for small farms. If you are looking for a budget tractor, you will find a wide range of compact tractors in Eicher and Massey Ferguson brands manufactured by TAFE.
Some of our recommendations would include EICHER 188 and MF 5118 2WD. They are two such feasible options that come under the 20 hp range. For example, Eicher 188 comes with many features like oil-immersed brakes, hydromatic ADDC, 825 CC air-cooled engine, horizontal silencer and a lot more. It even has a lifting capacity of up to 700 kg. Similarly, MF 5118 2WD has a lifting capacity of up to 750 kg and has multi disc oil immersed brakes. MF 5118 comes with many advanced features like lowest track width, push pedals, side shift, oil pipe kit and digital cluster.