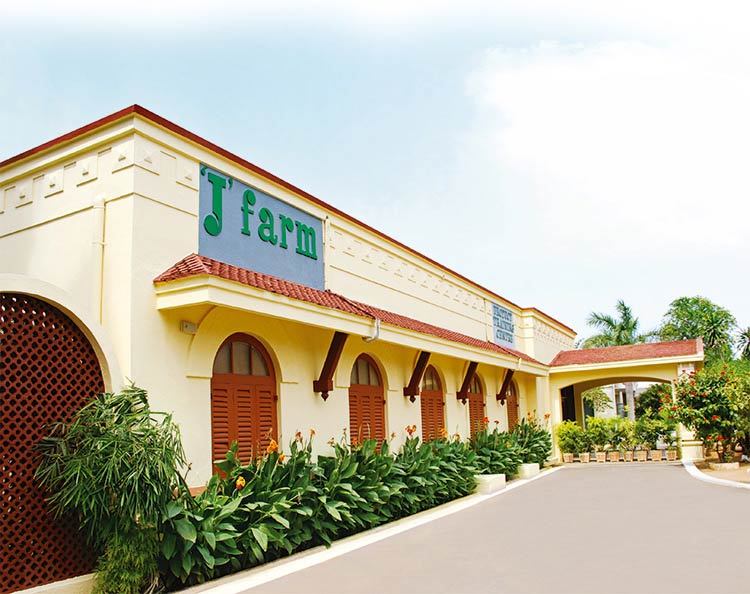 JFarm
Established in 1964, alongside the establishment of the company, on a barren, marginally rain-fed scrub land near Chennai, JFarm is an adaptive agri-research centre spread over 200 acres of land, dedicated to the memory of the Amalgamation Group's founder, Mr. S. Anantharamakrishnan. TAFE's Product Training Centre – a nationally recognized centre by the country's leading agricultural universities is also located in this facility. JFarm demonstrates how traditional, labour intensive, low productivity farming can be transformed into a profitable enterprise through the adoption of an integrated farming approach. Through this approach, an increase in farm income is achieved by integrating various agricultural practices such as multiple cropping, animal husbandry, agro-forestry, orchard farming and other innovative practices. Integrated farming takes a balanced approach to nutrient management by emphasizing the optimal utilization of resources, recycling of waste for productive purposes and low cost in farm input creation supported by mechanization, proven soil and water management practices, appropriate crop and seed selection, advanced crop production and protection technologies. The propagation of this approach for adoption by small and medium farmers has made a significant impact on making these farms feasible business enterprises.


JFarm's support to the farming community has included the launch of large varieties of rice; the notable ones being J13 - a super fine rice variety, J66 - an ultra-short duration variety, J18 - a super fine organic variety, JR21 and JR22 - high yielding varieties, and the successful model implementation of dry cultivation of mango. These varieties have found wide-scale adoption across hundreds of thousands of acres of farm land. JFarm has supported farmers by providing farm advisory services using radio, television, news articles, publications and farm journals, participation in seminars and symposia by government institutions and personal interaction through farm visits and farmer visits to JFarm. It has also established and manages a multilingual portal for the benefit of farmers. It disseminates valuable information on pests and diseases, cultivation of medicinal and aromatic crops, forest trees, trends in the use of farm implements and equipment, rainfall data etc.

Manned by a team of dedicated scientists and agricultural economists, JFarm has made a transformational impact across a large section of small and marginal farmers in the country.

In more recent years, JFarm has concentrated on organic farming in line with its focus on sustainable agriculture through an emphasis on soil conservation, use of natural inputs, long-term productivity, increased farm income, health and well-being.

The Product Training Centre, which is one of the earliest institutions of its kind in India, offers multilingual training in operation and maintenance of farm machinery and tractors, both at JFarm as well as on the field through classroom sessions, workshops and field training for farmers, mechanics and students from agriculture universities. The Product Training Centre currently trains around 10,000 people on an annual basis.

JFarm Rajasthan
Launched in November 2016, this is an advanced model of TAFE's successful adaptive agri-research centre in Chennai which focuses on the adoption of new technologies, and sharing this knowledge with the farming community. Spread over a large tract of land, JFarm Rajasthan hosts an adaptive research farm, agricultural extension services, farm skills development centre and a state-of-the-art technology demonstration and customer experience centre at Bhawanimandi, Jhalawar.

This centre aims to showcase the latest and best in agronomy and farm practices, latest trends in production, protection and processing of crops and also the world's best in terms of farm mechanization and its adaptability to Indian farms. The centre focuses on transforming Rajasthan's agricultural landscape with participation from the farmers of Rajasthan towards a bountiful future. It is in TAFE's DNA to go beyond the usual and add value to customers by empowering them to become a progressive, self-sustaining and prosperous agri-community.

Through the MoU with the Rajasthan Government, TAFE hopes to partner with 900 agri-entrepreneurs, create 4000 jobs and touch lives of over 500,000 farmers positively.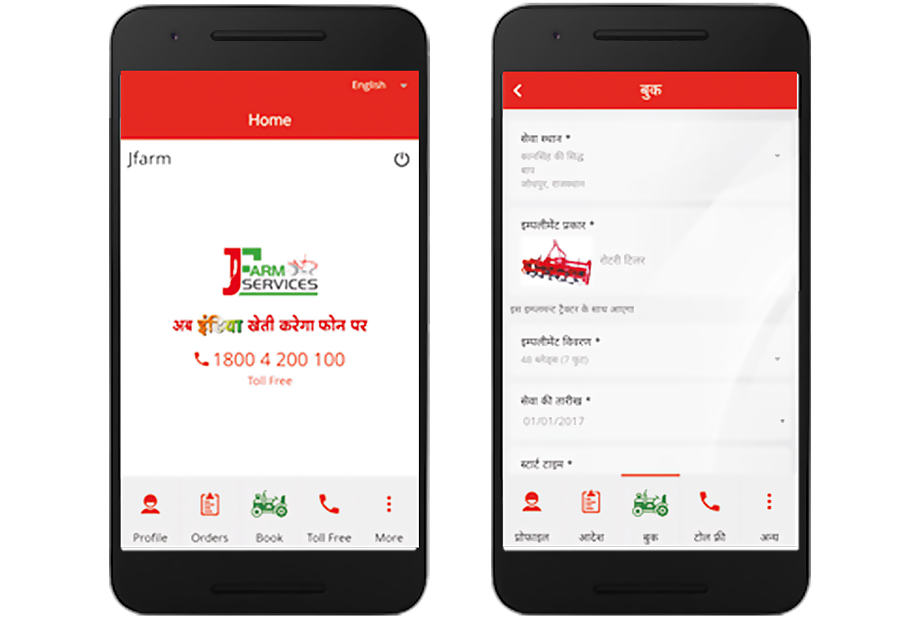 The Digital India Initiative
TAFE launched 'JFarm Services' – a mobile app based aggregator platform, which facilitates hiring of tractors and modern farm machinery for the farmers in Rajasthan. This free app available on Google Play, ensures a fair and transparent rental process while ensuring quality, dependability and on-time delivery of farm solutions. JFarm Services is also available to farmers on call through a dedicated toll-free number.

The launch of the JFarm Services app along with the identification of physical Custom Hiring Centers, creates a hub where farmers gain access to specialized equipment and JFarm Rajasthan's agri-extension services that include modern farm practices, technical know-how, high-yielding crop varieties, crop protection, organic and sustainable farming, besides customized and specially designed training programmes by leading agri-scientists.