Product Training Centre
If you plan for one year, plant rice. If you plan for ten years, plant trees. If you plan for a hundred years, educate people.

It was the vision of our late founder chairman that the front line soldiers of the industry, namely the mechanics and the sales and service staff will play a key role in educating farmers on the farm mechanization and economical use of the tractors to increase agriculture production. And therefore, the training of these members will be of paramount importance.

With this view and commitment, our founder chairman dedicated a 200 acre farm at a village called Pudupakkam, 40 km south of Chennai, to establish JFarm and Product Training Centre. The PTC was formally started in 1963 and carried forward its tradition of training thousands of dealer and company staff in the last five decades. Dealers and company personnel go through a rigorous training programme on induction that is supplemented by refresher courses and special courses for new products. All courses are normally run at the centre with frequent field courses conducted at various locations. Because of our operating in multi lingual, multi ethnic markets, instructors are multilingual to ensure clear dissemination of product knowledge.

An online help desk called the 'Technology Desk' is also administered by the centre. This desk provides solutions to any of the territory staff for their technical problems faced in their day to day experience in the field. A panel of experts has been formed to consider the problems and provide advice on the matter relating to tractor applications, use of implements, issues related to agriculture and its mechanization etc.



Service Support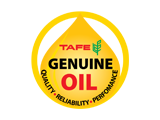 A team of trained professionals coordinates with dealers and authorized service centers to ensure that the tractors from TAFE are serviced and maintained to ensure long and trouble free service. To offer immediate technical support a toll free call center exists for customers in India. To meet emerging needs and improving features of the tractors, we also monitor tractors in the field and that's an edge under our Service Support System.
In order to ensure service at customer's door steps, a system of mobile service personnel to reach customers at their site is in place. Further, we ensure that all our dealers are staffed by personnel trained by us at our product training centre.
Empowering the customer
Customer support at TAFE relates to our most important core value, "Customer Satisfaction"
At TAFE Service our philosophy lies in "Empowering the customer" from whom the business starts and where it ends. Our whole team of service employees, dealers or service stations continuously strives to empower the customers in multiple ways so that they not only remain with us but also become the core driver for our products, policies & services.
Door step installation
Whether our "Door step installation" of practical demo within fortnight of purchase, the drivers training during our events or the customer education meets, we empower our customers with the right knowledge to get the best out of their tractors. In an industry where the machine is used in the most remote corners of the country, our benchmark "Service@doorstep" bikes not only provide home delivery at customers convenience but also save a lot of money & time for them.
We empower the customers to realize their extraordinary worth to our business, by constantly pampering them through our mega & mini service events like a " 5 in 1 " camps. We not only service the tractor but also do a family health check up to mentally & physically empower them.
Feedback
Our customers are empowered to communicate with ease & influence the company by expressing their views, opinions or suggestions in CSI surveys, direct customer visits, survey through call centers, 24 hour toll free assistance & contacts numbers displayed at our service stations and on tractors.
Our service network with over 1000 dealer workshops, over 800 service bikes & 400 "Apna Sewa Kendras" in remote clusters, empower the customers to avail all their tractor service requirements at their desired place.
TAFE service firmly believes that not only the availability but also the speed of response during crisis, really empowers the customers. So we strive to reach critical parts, engines & technical assistance in remotest locations in no time . TAFE service is proud to be more closely associated with the customers more than any other company in the industry. Our aim is to maintain our leadership standards in customer service.
Parts Support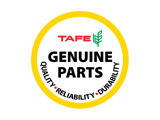 In our endeavor to ensure that our products are supported in the field, all our tractor parts are made available through our dealers ,authorized stockists, distributors and through our authorized service centres. This effort is supported through our field offices and a dedicated team to service the parts needs of our customers.
For parts requirements of TAFE branded tractors in your country please contact : corporate@tafe.com