Would you believe us if we told you that you could increase farm income with tractors without actually farming? Well, we all know that a tractor is one of the most used farm machineries in agriculture. But besides helping you get high yields directly from the field, tractors can help you earn an additional stream of passive income if you use them wisely for the business. This agribusiness opportunity is made possible to farmers through an initiative by TAFE named JFarm Services.
Keep reading to find out more about it.
Here are 6 tips on how to make money using tractors.
Investment-ready
Like we mentioned before, JFarm Services is an initiative by TAFE. It is a free tractor rental service that connects farmers who are on the lookout for farm machinery with farmers who own tractors. So with JFarm services, if you own a tractor, you are already an entrepreneur. You can generate a steady income by just renting out your tractor to those who are in need.
Register on JFarm Services
Register on JFarm services as a first step of generating additional income from tractors. You can download the app from Google playstore without any hassles. It is a free app that is currently available in Rajasthan, Gujarat, Madhya Pradesh (MP), Uttar Pradesh (UP), Haryana, Punjab, Maharashtra, Bihar, Odisha, Jharkhand, Chhattisgarh, Telangana, Andhra Pradesh, Tamil Nadu, Karnataka and Assam and tap into various opportunities for growth!
Extra Income from Tractor Rental
Besides renting out, this app also comes with several other financial benefits. For small and marginal farmers, this app helps in reducing input costs while increasing farm productivity. They can avoid the burden of putting a capital investment in farm machinery. After all, like the old saying goes, every penny saved is a penny earned! This is a win win, if you aren't using your tractor, you can rent it out to a small farmer. The community prospers and so do you.
The power of networks
As a tractor owner you may have the capability to get renters all by yourself. However, while you may do so, don't miss out on opportunities to connect with a large number of people in the same or affiliated sector as yours. JFarm services, unlike the traditional offline setup, helps building relevant networks within the agriculture ecosystem. This application is like a free market place with a wide array of options to choose from. It is also very quick and easy to install and use.
Community Connect
This app puts forward an opportunity to connect with different farmers. The exposure you earn will get you financial benefits and create opportunities for information exchange on new farming methods, technology and agri updates. It is also a gateway to new possibilities in agriculture. All successful farmers have been able to grow and thrive because of a community that helped them get there.
Better Farm Machinery
In the most conventional way, access to better farm machinery like a tractor means better yields. JFarm services bring you the privilege of choosing from a wide range of specialized modern machinery for every application. You will be able to identify and hire implements necessary for every need ranging from land preparation to harvest / post–harvest, that too in the most cost-efficient way.
For a farmer, a tractor is a part of the ecosystem. They are traditionally used to mechanise several agricultural tasks. However, a tractor is more than just machinery in a farm. Expand your agribusiness to new levels with JFarm Services!
About JFarm Services
JFarm Services is an initiative by TAFE – Tractors and Farm Equipment Limited to increase easy access to farm mechanization solutions through rental of tractors and farm equipment for small and large farms.
Small and marginal farmers, who hold more than 80% of the land holdings in India may not be able to afford ownership of tractors or implements. JFarm Services bridges this gap by connecting these farmers with tractor and equipment owners through its Farmer-2-Farmer platform. Farmers can explore and book nearby equipment through:
Toll free helpline: 1800-4-200-100 / 1800-208-4242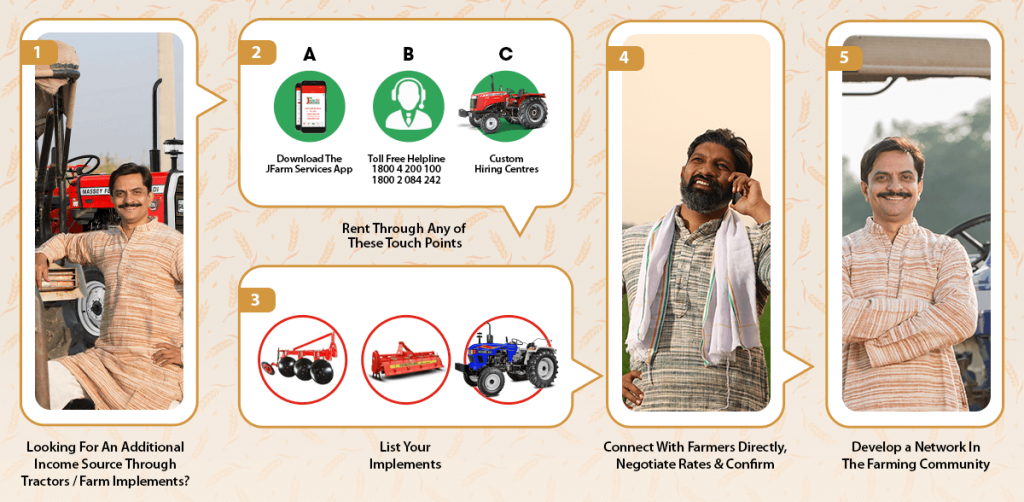 This free app connects tractor owners and Custom Hiring Centres (CHCs) operated by tractors and equipment owners directly to farmers seeking farm mechanization solutions, thereby facilitating a fair and transparent rental process while focusing on quality, dependability and timely delivery. JFarm Services offers the farmers and renters a wide range of prospects for hiring and renting of farm equipment and connects them directly to negotiate and fulfil their respective requirements.
With the creation of this platform comprising farm machinery owners and users, JFarm Services has impacted the lives of over 26,00,000 farmers across 16 states in India, since its inception in 2017.
Currently, JFarm Services (JFS) operates in Rajasthan, Gujarat, Madhya Pradesh (MP), Uttar Pradesh (UP), Haryana, Punjab, Maharashtra, Bihar, Odisha, Jharkhand, Chhattisgarh, Telangana, Andhra Pradesh, Tamil Nadu, Karnataka and Assam – making farm mechanization viable and affordable to all. JFarm Services is further fostering digital empowerment of Indian farmers while creating a breed of new rural entrepreneurs, significant job opportunities and employment.